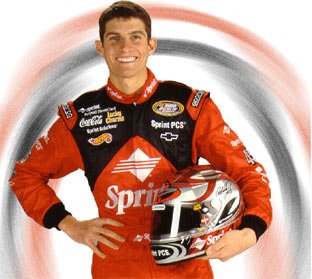 The first family of NASCAR
Editor's note: The following is a Future Watch column Adam Petty wrote for Sportsline.com on March 10, 2000. Adam reflected on his family's rich racing history.
Hey everyone,
My name is Adam Petty, driver of the No. 45 Sprint Chevrolet Monte Carlo in the NASCAR Busch Series.
Let me begin with the obvious question, what is it like to be a Petty? If you are a follower of any of the NASCAR series you may have heard my last name but maybe not my first. Just for a little background let me begin by telling you about my family. Honestly we have been involved in racing about as long as NASCAR has been in existence. Petty Enterprises is currently entering into their second 50 years. My great granddad, Lee, was the first winner of the Daytona 500 and won over 50 races in his career. My granddad, Richard or as many people know and call him "The King," won 200 races while he was driving and seven championships. My dad, Kyle, has been racing in the Winston Cup series for over 20 years and is one of my biggest supporters and the driver that I admire the most.
So to say the least, I definitely have some big footsteps to follow as I am just beginning my career. The next question that I am usually asked is do I feel any pressure because my family has been so successful or does my family put any pressure on me to do well? The answer to both of these questions is no. I'm really honored to be a Petty. My family really puts no pressure on me at all. I just do the best I can do and learn everything I can to improve when I run my next race.
Growing up, racing was never something that I felt like I had to do because my family always has. I always wanted to do it though because I was a typical kid who wanted to be just like my dad. When I was little it would always make me mad that I couldn't go with my dad to the track because even at a young age I thought I was good enough to be on his pit crew. I've also always loved to go very fast. I've never really had any fear about going almost 200 mph, so that's probably good when you're involved in my line of work.
Like many other drivers in the sport, I started racing go-karts when I was young and raced them until I was 12 years old. What I really wanted to race was stock cars, though. So for my fourteenth birthday my dad bought me a Winston Racing Series Late Model chassis. I never will forget that day. He gave it to me and told me if I wanted to race it I had to put together the sponsorship, get the parts and then build the thing myself. I worked on it for about a month and then quit. It just sat there untouched for a couple months and then I decided to put it together and go racing. It took me two years to get the car together but it was really worth it when I finished. I really admire my dad for making me work hard to get where I am today, it makes you appreciate success much more if you have to work for it.
In 1997, I ran about 25 races in a Late Model Stock car and I got a lot of experience on tracks such as Caraway Speedway, Myrtle Beach, and Nashville. In 1998, I ran in three different series including the American Speed Association (ASA) series, the ARCA Series, and the NASCAR Busch Series. I won in my tenth start in the ASA Series in Odessa, MO and won in my first start in the ARCA series at Charlotte Motor Speedway. These two wins are some of my proudest accomplishments in racing.
In 1999, I entered into the NASCAR Busch Series full-time. The first race of the season was at Daytona and I had never raced at that track before. Man, I was really nervous but I ended up finishing the race in the sixth position. The rest of the season didn't go quite as smoothly as Daytona did but overall it was a good rookie year with three top five finishes to our team's credit.
As I enter my second full season of Busch Series competition, my goal is to be consistent week in and week out. The more experience I get at a track, the easier it gets to run when we go back there. That's something I am really working on this season. I pay attention to how the car feels on the track and what effect our changes have on how it handles. This year I have a great team and we work really well together. I have a new crew chief, Chris Hussey, and we communicate really well with one another and have many of the same ideas on how we can be better and more competitive every week.
I will not only be running in the Busch Series this year but I am also attempting to qualify for five Winston Cup races over the season, with the first one being at Texas Motor Speedway on April 2. Sprint is going to be the sponsor on my Winston Cup car as well and it feels really good to know that they are behind me in this effort one hundred percent. Sprint has taken me from ASA to the Busch Series and I'm extremely happy that they are taking the step to Winston Cup with me as well.
My attempting to run in a Winston Cup race is a very special moment for my family and myself because it marks the first time that I will have a chance to race against my dad. Something that I have always imagined growing up is what it would be like to race him side by side and hopefully in Texas I will have that chance. Qualifying for the race will be a challenge, but I plan to give it my best. I know from watching my dad and granddad that the Winston Cup series is the toughest competition there is, but I believe my team and I are ready to take that step.
But before I can focus on Texas we have a couple more Busch Series races to run, starting this weekend in Atlanta. Atlanta is definitely one of the fastest tracks we race on. We ran well there last year before being involved in an accident so I'm looking for a repeat performance, this time without the accident part. So far this season, we have made a lot of strides. We finished 37th in Daytona, 27th in Rockingham and 17th in Las Vegas. If we continue to pick up ten positions each week, pretty soon we'll have a good finish that I know that this team is capable of.
As you can tell, the 2000 season is going to be a pretty big year for me and I am looking forward to sharing it with all of you through this column. So until I talk to you next time, be sure to read what Lyndon, Jason, and Hank have to say. I can promise I'll be reading to check up on the competition and see if they're telling any of their racing secrets to you.
God bless,
Adam Petty
Some Weeks We All Lose:
It takes just a moment to change lives forever. In a blink of an eye as his throttle apparently stuck, Adam Petty was killed Friday afternoon in Loudon New Hampshire while practicing for this week's Busch race. While racers and race fans join the Petty clan in mourning, we are reminded how precious life is and of other racing heroes whose candles blew out much too soon. Adam was only nineteen years young with his whole life and racing career ahead of him.
When we lose one of our heroes there always seems to be an image of a particular time in their life that they shared with us. Seven years ago we lost both Alan Kulwicki and Davey Allison in quick succession and certain images of each are frozen in my mind. I remember Davey hugging and celebrating with his Dad after finishing second to Bobby at Daytona. I recall seeing a very tired and overwhelmed Alan Kulwicki after winning the Winston Cup title in that final race in Atlanta. Now we lost another racer and with Adam the image will be the celebration in Victory Lane after his ARCA triumph at Charlotte. From his Dad Kyle tweaking his big ears to the three generations of Pettys flashing their trademark smiles, that scene was the gift that Adam left us race fans with.
When tragedy strikes we all remember where we were when we heard the fateful news. I was only three years old when John F Kennedy was assassinated but I remember I was playing on the living room floor watching my Mom cry. I was changing my daughter's diaper the morning the Space Shuttle Challenger exploded. I was packing boxes at my apartment when I heard the horrifying news of the Columbine High School massacre. Friday I was playing euchre online when the newsletter service from Racingone.com announced the crash. My first thought was that I hoped Adam would recover in time for his second Cup start in Charlotte. We watch our racing heroes fly around the track at break neck speed and while we understand the dangers of our sport we bury the idea of anyone getting killed. When the second bulletin was sent I was in disbelief. My mind flashed back to when I heard about the loss of our other fallen racing heroes and suddenly the fun and excitement of racing was gone again.
While Adam Petty might never have measured up to some people's measure of greatness on the track, he has already made his family proud in his nineteen short years. Just like Lee, Richard, and Kyle before him, the true measure of greatness to the Petty family was not just races won but how they are winners off the track as well. Lee taught Richard not only how to build and race winning racecars, but also what it means to give back to the sport and his community. King Richard was not only NASCAR's most successful driver on the track he is still its best role model off the track today. Kyle might not have lived up to the Petty mystique on the track in many fans eyes (Due to factors out of his control in my humble opinion) but he has carried on the Petty tradition with his charitable endeavors through the years. It is delightfully amazing that a family with 262 Winston Cup victories still has their priorities in the right place in this day and age. Perhaps that is our biggest loss of all since we are robbed of what Adam had to offer off the track as well as on.
Stock Car racing is big on tradition. I still get goose bumps at the sight of all the pit crews lined up on pit road for our National Anthem before a race. I can still remember the emotional sight of AK's hauler doing its slow solo lap of Bristol after Alan's death. The tug at the heartstrings I felt while watching Donnie Allison drive his nephew's 28 car with tears in his eyes at Talladega are still a vivid memory. I'm sure the tributes to Adam will be etched in our minds as well. Racing stories week in and week out are often about who won and who lost. This week we all lost, as we had to say goodbye to Adam at such a tender age.